Brexit talks could lead to House of Lords reform
07 Nov 2016 | 6:31 PM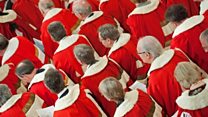 Brexit talks could lead to House of Lords reform
7 November 2016 Last updated at 11:00 GMT
The subject of Lords Reform looks set to rear its head again, as the debate over Parliament's say in triggering Article 50 could see a clash between the government and peers.
With more than 800 members, just how effective is the House of Lords at scrutinising legislation and holding the government to account?
Westminster Hour reporter Sam Macrory asked some of chamber's members for their thoughts on self-reform.