May: Brexit 'on track'
18 Nov 2016 | 11:03 PM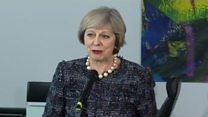 Theresa May in Berlin: Brexit 'on track'
18 November 2016 Last updated at 15:54 GMT
The Prime Minister Theresa May has said the timetable for Brexit negotiations is "on track" and Article 50 will be triggered by the end of March.
It follows a High Court ruling this month which stated that Parliament must vote on whether the UK can start the process of leaving the EU, preventing the government from triggering Article 50 independently.
Mrs May made the assurance at a news conference in Berlin alongside German Chancellor Angela Merkel.