John Rees Evans on UKIP leadership, Nigel Farage and Diane James
22 Nov 2016 | 9:30 PM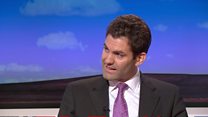 John Rees Evans on UKIP leadership, Nigel Farage and Diane James
22 November 2016 Last updated at 14:23 GMT
UKIP leadership candidate John Rees Evans said he could win Diane James back to the party, and would have to sack some staff if he took over.
He said he also faced a "clique" in the party and he said "a lot of people would rebel against my leadership", as he spoke about bullying and the party's finances.
Mr Rees-Evans is up against Suzanne Evans and Paul Nuttall to take over from Nigel Farage, and debated his party's future with Daily Politics presenter Jo Coburn and Conservative MP Claire Perry.
More: Follow @daily_politics on Twitter and like us on Facebook and watch a recent clip and watch full programmes on iPlayer