Hard Brexit would cause recession in UK says El-Erian
24 Nov 2016 | 6:02 PM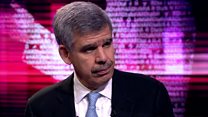 Hard Brexit would cause recession in UK says El-Erian
24 November 2016 Last updated at 10:21 GMT
If the UK government chooses a so-called hard Brexit the economy will go into recession, the chief economic adviser at Allianz, Mohamed El-Erian, has told BBC Hardtalk's Stephen Sackur.
"If you have a hard Brexit tomorrow, you'll be replacing something with nothing," said Mr El-Erian, "You cannot go back to the default option because that is so, so far away from how the UK trades today," he added.
Mr El-Erian explained he did not believe a hard Brexit would happen.
"At the end of the day Europe is going to realise that it's in its interest as well as the UK interests to have a soft Brexit, because Europe also needs the UK," he said.
Watch the full interview on Thursday 24 November 2016 on BBC World News, BBC News Channel and BBC iPlayer (UK only),