Erotic Harry Styles-inspired fan-fiction set for big screen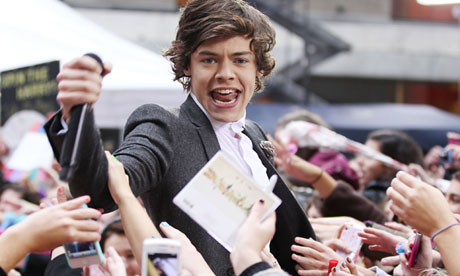 The march of fan fiction-inspired softcore erotica to the big screen continues with the news that Hollywood is set to adapt a series of books which pitch a skewed take on star as an irresistibly cruel lover.
Written by 25-year-old Texan Anna Todd, who began exploring the world of fan fiction after finding herself with time on her hands thanks to her husband's regular deployments to Iraq, After was initially released chapter by chapter via the. The ebook features a version of Styles known as "Hardin Scott", who is a student rather than famed member of one of the world's best known boy bands.
Described as "rude to the point of cruelty" the character appears to have been inspired by kinky businessman Christian Grey in EL James' . His lover Tessa "is compelled to dig deeper and find the real Hardin beneath all his lies" according to the blurb "despite the reckless way he treats her". James appears unlikely to sue for copyright, given the author's incredibly successful series of erotic novels began life as Twilight fan fiction.

"I loved 50 Shades and reading it sort of changed my adult reading life and definitely influenced After," admitted Todd, whose first ebook has picked up more than a billion hits. "So I'm very thankful that I read that." : "I had no idea what to expect when I started writing it so it's really exciting and just totally insane that it's come to this.
"I just wrote the book to entertain myself. I would like to see Harry in it but I don't think he can really get into that grouchy, rude kind of role."
After and a further three proposed books have now been picked up for a six figure sum and sold to publishers in 26 countries. Studio Paramount has reportedly optioned the series for the big screen, but that idea has already met with opposition from One Direction fans concerned the public will confuse "Hardin Scott" with their floppy-fringed hero.
"After is not a love story," reads one petition which has picked up more than 23,000 digital signatures. "It's the tale of a girl who is physically, mentally, and emotionally abused by a misogynistic boy, who everyone, and by that I mean EVERYONE, will see as Harry Styles. Whether or not the name is changed, everyone will know who it's originally about, and we can't have him portrayed as that."
, from director Sam Taylor Johnson, is due to arrive in cinemas in February next year with Jamie Dornan and Dakota Johnson in the lead roles of Grey and his well-renumerated sex slave, Anastasia Steele.